Every Sunday Bulletin Subscription Service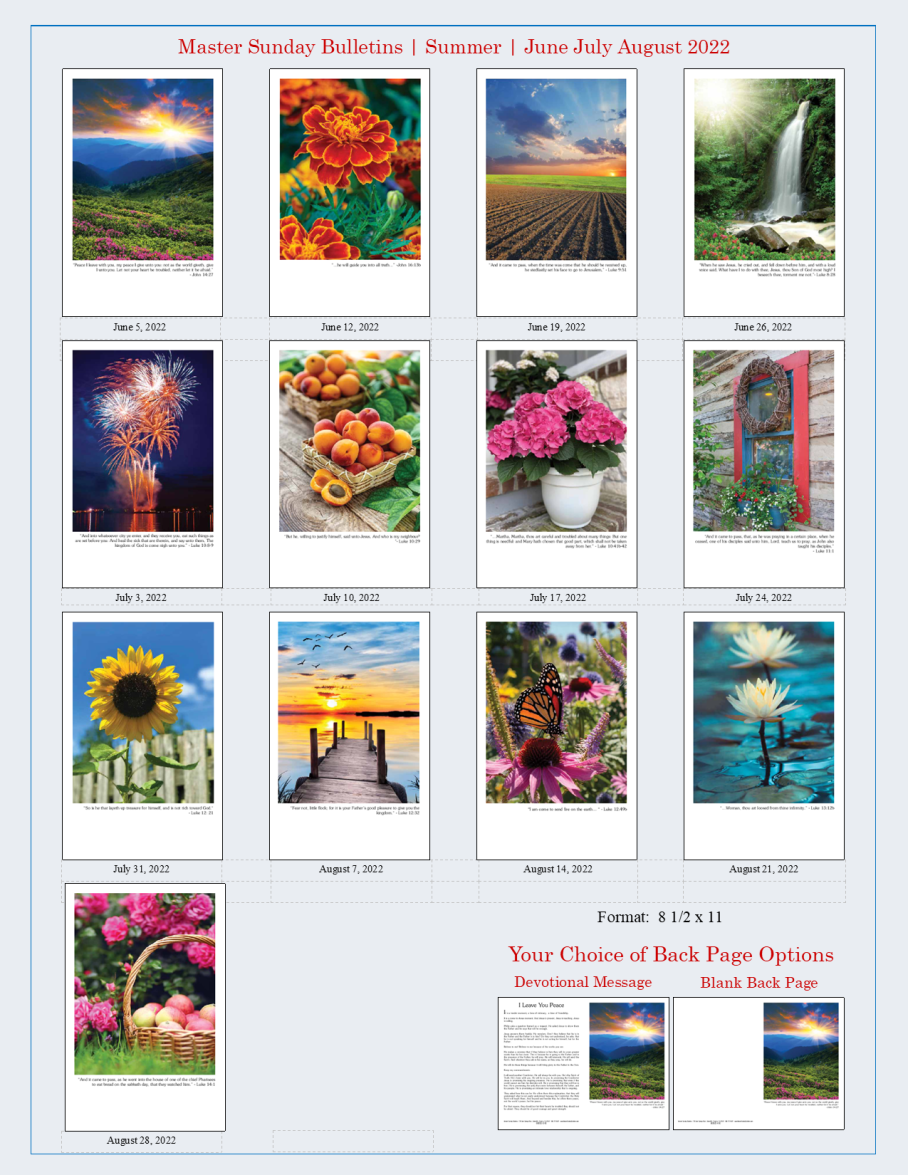 Our continuous order bulletin subscription service offers you:
Easy ordering – order one time and bulletins are delivered quarterly
High Quality Printing – High quality color photographs reproduced on gleaming white 60# paper.
King James Version Scriptures – The scripture messages accompanying each week's image is quoted from the King James Version.
True 8 1/2 x 11 Size – Cut accurately to fit the feeder tray on your copier or other duplicator.
Beautiful Inspirational Messages – Photos are carefully selected to show the beauty of God's creation and to inspire and encourage your congregation.
Special Packaging – Bulletins are shipped flat for easy imprinting and specially shrink-wrapped for damage-proof delivery and easy storage.
Optional extra bulletins for specific high-attendance Sundays like Easter and Christmas
Optional back page devotional messages – At no extra charge, a thoughtful and thought-provoking devotional message can be printed on the back.
Continuous order bulletins are $6.75/100 for a hundred or more per week; $3.50/50 for 50 per week (plus shipping).
Order in increments of 50 per week.
You can begin your subscription any week of the year; allow 2 weeks before receiving your first shipment.
Save
Enjoy Our
The bulletins of the Classic Every Sunday Subscription Service include scenes of God's creation and seasonally appropriate images that remind us of events of the Christian Calendar.  Each bulletin of the Classic Subscription service provides a brilliant colorful image, a Scripture verse and an (optional) devotional message.